Commercial Painting in Boston MA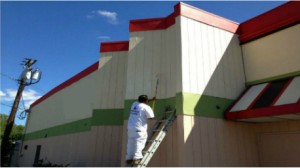 A quality paint job can make a world of difference in the appearance of a commercial building. The exterior of a building gives potential customers their first impression of a business, either inviting them in, or turning them away. The interior can help them feel welcome, and their business appreciated. Whether you are looking to touch up the inside or outside of your commercial building, or go with a completely new color, we can help.
With more than 28 years of experience in the commercial painting business, JD Contracting is committed to providing its clients with superior painting services. We have partnered with only the most experienced painters, who work hard to ensure no detail of a painting job is overlooked. Our painters work closely with clients to bring the vision they have of their business to life. Our suppliers use the highest quality of paints so that both clients and their customers are satisfied for years to come.
JD Contracting provides painting services for commercial businesses throughout the Greater Boston and New England area. To learn more about how we help you improve the look and feel of your business, or to request a quote on a painting project, please contact us today!